S450 - The new tool for sign makers
Fast, easy and stable welding solutions. Corrosion-free and heat-resistant joints. Almost no post-processing necessary.
With PUK S450 the finest of welds are possible e. g. on thin stainless steel plates. Without any welding mark you can weld fine stainless steel plates which is very important at channel letter welding.
You can not see any deformation or chemical reaction after welding with PUK S450 so the channel letters can stand for many years.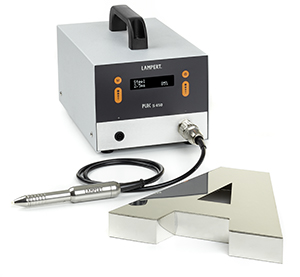 The Original Lampert Fine-Welding System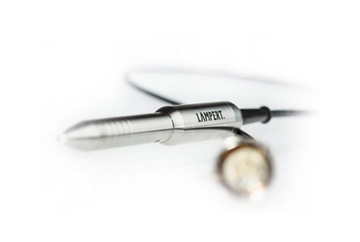 Superior welding characteristics
Consistently reproducible and high quality welding results on all materials suitable for DC welding
Simple and intuitive to operate
Precise positioning of the welding point
Very low, controllable development of heat
Welding of even the thinnest materials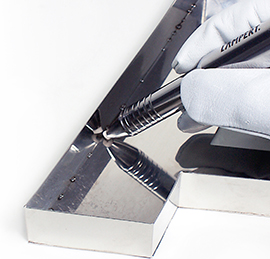 Makes welding faster and easier compared to soldering
Precise welding under the eye protecting system
Maintenance-free technology
Low procurement costs, excellent price-performance ratio
Compact size – fits into every workshop
Very low costs of consumer materials
Low argon consumption
Facts that speak for themselves
Intuitive to operate
Thanks to intelligent presettings, only 3 operating steps are necessary. Select metal group, welding power and welding time > weld!

Individually set work position for fatigue-free work.

Premium craftsmanship in every detail
Dust-proof housing without a ventilator and means it's quiet and long-lasting.



Current (WIG) min./max.
9 – 430 A
Pulse duration (WIG) min./max.
2 – 6 ms
Max. charging time
0.8 s
Number of metal programs
3
High-frequency welds
+
Automatic gas pre-flow time
+
Gas consumption
ca. 2 l/min
Shielding gas
Argon > 99.9 %
e.g. Argon 4.6
Max. power consumption during welding
400 VA
Power consumption in maintenance operation
6 W
Weight
7.1 kg
Technical Data Eye Protection System
| | |
| --- | --- |
| Actively controlled LCD eye protection system | + |
| Safety DIN CERTCO-certified | + |
| Brightness level of the LCD | DIN 3 |
| Darkness level of the LCD | DIN 11 |
| Switching time | < 50 ms |
| UV protection | > UV11 |
| IR protection | > IR11 |
Precision handpiece for precision welds
Solid quality and the best materials such as stainless steel and teflon are prerequisites for precision in manufacturing and reliability in application
Handling the components: Sophisticated details simplify handling
Premium plug connections
Professional screw and plug connections provide long service life and permanent safety in daily use

Practical and fast: Plug-in nozzles and nuts allow you to quickly change electrodes without tools.
Special electrodes without poisonous components. With optimal ignition and welding properties
The operating concept of the S450 guarantees intuitive and safe setting of the device.
S450 Makes Welding Simple
Correctly set the device in three steps:



3. Adjust welding time according to indivudual need
-> weld!
See a quick introduction of the Lampert S450
Automatic operation or foot switch
Activate the foot switch by pressing it down for 2 seconds. The automatic function of the S450 is then deactivated.
The white symbol on the display signals that fot switch operation is activated.
In that cace welding is only triggered when you press the foot switch.

Select your basic settings
Settings menu just a keystroke away
To set the gas flow rate, the gas valve can be opened
To control the eye protection, this can be activated in intervals.
Select your preferred language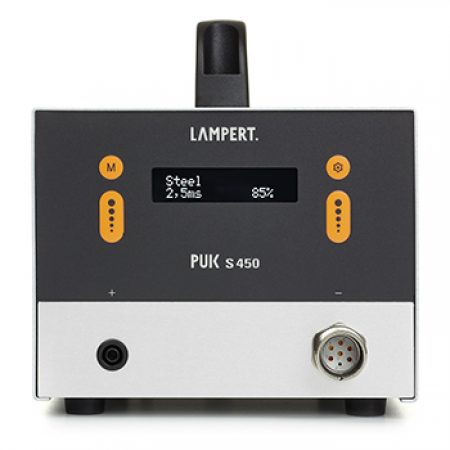 AT HOME IN THE SIGN MAKING WORKSHOP
Meaningful construction for long service life and continuous operation: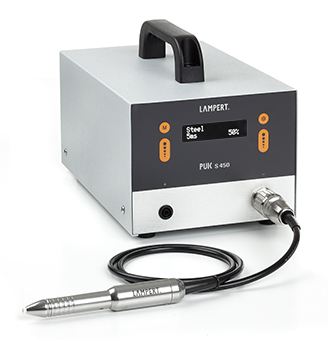 Passively cooled
The S450 does not need a ventilator or ventilation slots. The passive cooling system generates no disruptive noises and is very energy-efficient.
Dust-tight housing
The S450 features a closed, tight housing.

Thus none of the metal or polishing dusts generated in the workshop penetrate the device. Damage or device errors caused by unavoidable deposits are avoided.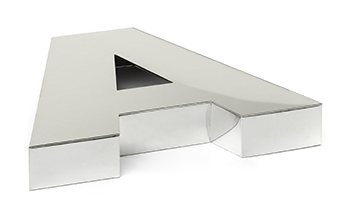 Accessories and special equipment
Additional practical system components and accessories such as different eye-protection systems, welding wires and much more are available to meet your individual needs. Visit our accessories page.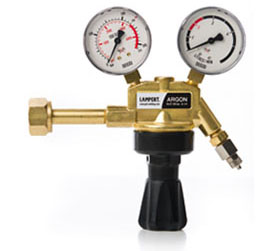 The S450 welding system is delivered with the following accessories and contains all necessary documentation and instructions:
The PUK welding system with the selected eye protection system


The necessary contact clamp, gas hose, cleaning brush and connection cables

One pack with 10 special electrodes Ø 0.6 mm incl. 1 diamond grinding wheel

Here you can find additional information on our welding units available for download
QUALITY AND SAFETY COME FIRST
Quality for your requirement: We set great value on the highest production and safety standards and guarantee the reliability of our products
Quality for high demands: We place utmost importance on the highest production and quality standards; we maintain close contact with our partners and suppliers, and are aware of the reliability of our devices: Therefore, we proudly stand behind our products – Made in Germany!

User safety comes first: The welder's eye protection systems of the PUK welding equipment have been checked and approved by DIN CERTCO for Lampert.

Tested device safety: Safety is paramount to Lampert. All of our machines and devices are "CE" tested and certified in accordance with the DIN standards. As such, our customers can depend upon the safety and reliability of our products at all times.
State-of-the-art technology: Our long-standing cooperation with the University of Applied Sciences WÜ-SW guarantees innovation.

Quality from conviction: We grant a 3-year warranty for the PUK welding units!